Project@Hand 2
2.5.4
Project Management Application
Project@Hand 2 Publisher's Description
Professionals looking to track projects on their handheld device will appreciate the power of Natara's Project@Hand? 2 project management application for the Palm Computing platform.
Project@Hand 2 is a stand-alone project management system that brings to power of a desktop project management application to your handheld. Create and track projects directly on your handheld device. Change a task and see how the project cost and finish date are effected.
Key Features:
Advanced scheduling engine.
Organize your project using a hierarchical task list.
Integrated Gantt chart.
Track resource work and cost.
Project, task and resource lists are fully customizable.
Supports high resolution devices.
Supports devices with virtual graffiti areas.
Save projects on storage cards to free up memory.
Define and save multiple filters.
Beam projects to other handheld devices.
Print task information using TealPrint or PalmPrint.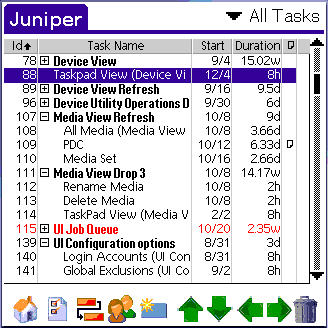 Integrated Gantt Chart:
Use the integrated Gantt chart to construct your product.
Tap on a task bar and use the stylus to change:
The duration of a task.
Create a dependency between tasks.
Change the percent complete of the task.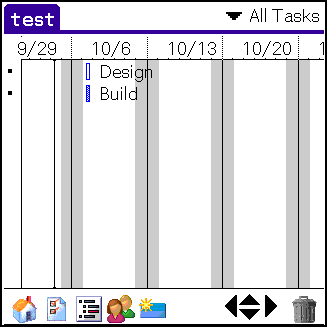 Supports handhelds with landscape displays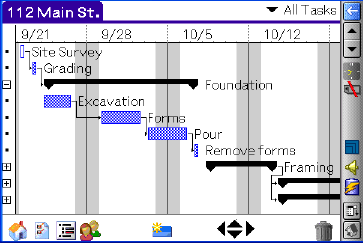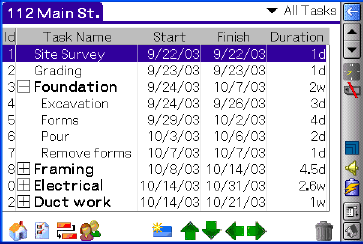 If you use Microsoft Project, please see Project@Hand v1.5 which synchronizes with desktop projects.
The readme file contains a full list of bug fixes and other changes in this release.
Look for Similar Items by Category
Feedback